Audacious Energy has developed an IoT network (called the Appliance Control System or ACS) for commercial farmers in developing countries which enables them to take control of their solar microgrids. ACS allows farmers to track energy consumption at an appliance level and schedule running of the appliances based on their PV power production, battery state of charge and operational priorities. Another benefit of ACS is that it enables the use of 2nd life EV batteries in stationary farming applications, thus reducing the CAPEX for installing microgrids.
Syed Haider Ali - Founder and President, is an interesting character. During his time in Shell as a Wells Engineer he competed in a technology challenge from the drilling group co-sponsored by the Shell Game Changer group. He won against more than 50 entries and as a winner he received development money and consulting support from Game Changer.
I was both member of the jury and his principal consultant from the Game Changer group, so I had the opportunity to follow his project as he led the Co-Generation for Drilling Rigs Technology development for Royal Dutch Shell. He successfully raised $1 Million for the pilot project of Co-Generation for Drilling Rigs Technology and also led the successful pilot project for Heat Recovery Steam Generators on drilling rigs.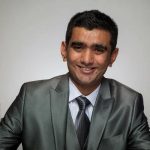 J'ai eu l'occasion de travailler aux côtés de Sophie, dirigeante de Traboule Innovation lors de nombreuses missions. Experte dans le secteur de l'énergie, Sophie nous a récemment conseillé chez Audacious Energy pour notre dernier projet de développement en technologies propres. Sa connaissance précise de l'écosystème nous a permis de procéder à la validation du marché.
Syed Haider Ali, Founder and CEO at Audacious Energy